---
Sixty-second quake kills 370 in Cairo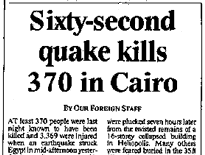 Tuesday, 13th October 1992
BY OUR FOREIGN STAFF
At least 370 people were last night known to have been killed and 3,369 were injured when an earthquake struck Egypt in mid.afternoon yesterday, security sources said. About 80 multi.storey buildings collapsed or were dam.aged in Cairo.
People ran screaming into the streets all over the city of 12 million after the tremor, which measured 5.8 on the Richter scale, lasted one minute and was felt 265 miles away in Jerusalem.
The earthquake sent blocks of flats in Cairo crashing to the ground. But Reda Abdel.Aziz, an assistant interior minister. said that many people were trampled to death as they stampeded in panic, including more than 100 high.school children in the Cairo area.
In Heliopolis hospital, where 120 people were treated, 14 of the 31 admitted were children from five schools where buildings had collapsed. Most were trampled. "The kids threw me down the stairs as they were running out," Amira Ahmed, 13, said. "I didn't feel the quake. But I heard a janitor yell for everybody to run away. I got trampled and choked."
Five people, including a woman and her dead son, were plucked seven hours later from the twisted remains of a 16.storey collapsed building in Heliopolis. Many others were feared buried in the 35ft pile of concrete, iron and furniture of the block.
Rescue teams also searched fallen buildings in Maadi, a southern suburb, and in the working class areas of Daher, Shubra, Bulak, and Bab al Sharia.
The epicentre was some 20 miles southwest of Cairo, near the Saqqara monuments and close to the Fayoum oasis which, with Giza suburb, was particularly badly hit.
The ministry earlier said 65 people had been killed throughout Egypt, including 42 in Qaliubia region north of Cairo, where two schools collapsed. Three minarets at one of Cairo's oldest mosques, the Hanafi, were toppled.
Passengers fled in panic on to the tarmac at Cairo airport as terminal walls cracked and windows shattered, though the control tower remained operational. The tremor cut telephone and power lines in most regions of Egypt.
President Mubarak cut short a visit to Peking and was to return to Egypt today.